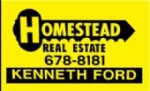 Homestead Real Estate
3540 S. Hwy 27
Somerset
,
42501
United States
See map:
Google Maps
---
Adam Gullett
Somerset,
Business Phone
606-219-5122
Alternative Phone
606-678-8181
Serving Areas:
Somerset, Eubank, Science Hill, Nancy, Ferguson, Burnside, Bronston
---
About Homestead Real Estate
Serving the Somerset Kentucky & Lake Cumberland Area in residential, lot's, acreage, farms, and commercial real estate. So no matter what your needs are, we can help!
---
---
Reviews & Feedback

If you have an experience working with Homestead Real Estate and would like to share it with others, please write a review or a short feedback.