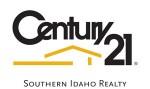 CENTURY 21 Southern Idaho Realty
1135 West 6th South
Mountain Home
,
ID
,
83647
United States
See map:
Google Maps
---
Business Phone
208-587-9021
Toll Free
800-447-1012
Serving ID Areas:
Mountain Home, Mountain Home Air Force Base
---
About CENTURY 21 Southern Idaho Realty
Questions about real estate, homes for sale and local real estate agents are among the first asked by families moving to Mountain Home, Idaho and Mountain Home Air Force Base. For nearly 30 years CENTURY 21 Southern Idaho Realty has provided the answers to thousands of relocating families and we're looking forward to helping you. Our agents possess the local market knowledge and experience to ensure that you find a home that's the best fit for your family and purchase it under the best possible terms. We're consistently Mountain Home Idaho's real estate market leader in hot markets and those that aren't so hot. For 2008 (as of 7/31/08) we've sold more real estate than the next 3 offices combined. (Source: Intermountain Multiple Listing Service). Please contact us now to discuss your real estate needs.
---
---
Reviews & Feedback

If you have an experience working with CENTURY 21 Southern Idaho Realty and would like to share it with others, please write a review or a short feedback.