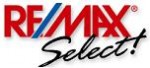 Re/Max Select
1320 W. Hill Road
Flint
,
48507
United States
See map:
Google Maps
---

Business Phone
810-600-6100
Serving Areas:
Grand Blanc, Flushing, Flint, Fenton, Davison, Goodrich, Linden, Genesee County, Holly, Swartz Creek
---
About Re/Max Select
RE/MAX Select was founded in 1997 by Imad Isaac- broker/owner. Imad was new to the brokerage business, but with over 25 years of real estate experience Imad has lead the company to grow to be the number one individual office based on sales volume in Genesee County. The office grossed over $117 million in sales volume in 2007. With over 50 full-time agents to serve the community, we can handle all of your real estate needs. Our associates are trained in residential, commercial, vacant land, and investment properties. Our office is centrally located on Hill Rd. (between US-23 and I-475). Visit our website: www.selecthomesales.com Call us: 810-600-6100
Buyers, Sellers, or anyone interested in Real Estate! We service Genesee County, Flint, Grand Blanc, Davison, Fenton, Flushing, Goodrich, Linden, Holly, Swartz Creek, and the surrounding area!
---
---
Reviews & Feedback

If you have an experience working with Re/Max Select and would like to share it with others, please write a review or a short feedback.