Charles Richey Fundraiser
Posted June 24th, 2008 by Max Chirkov
in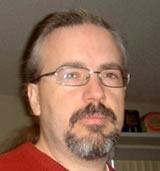 Our friend and fellow real estate agent, Charles Richey, has been diagnosed with Guillain-Barre Syndrome and is currently in the ICU at the University Medical Center (UMC) in Las Vegas.
Guillain-Barre Syndrome: (GBS) (pronounced "ghee-YAN bah-RAY") is a rare nervous system disorder that results from nerve damage caused by the body's own immune system, usually in response to an infection or other illness. GBS causes muscle weakness, loss of reflexes, and numbness or tingling in the arms, legs, face, and other parts of the body. It can even progress to complete paralysis. GBS is the most common medical cause of paralysis that develops over days to weeks.
Fortunately, Charles has already begun treatment. On a positive note, most patients diagnosed with GBS recover with no residual side effects or complications after treatment - but this is going to take some time.
The initial treatment he is going through is a minimum of five days (if the disorder was caught early enough) and requires that he stays in the ICU for that time to keep a close eye on his vitals and ensure his recovery is on track. After Charles is out of the ICU and if his doctors have caught it in time to prevent permanent paralysis, extensive physical therapy will be required so that he can regain the use of his limbs and the dexterity in his fingers and hands. GBS is one of the leading causes of paralysis in the United States. As of right now, Charles is in his second day of treatment and things are looking up as he has already stated on the phone with Matt that he is feeling a bit better. There is a 95% full recovery rate for people diagnosed with this syndrome who receive treatment in time. Of course his positive attitude plays a tremendous part in this as well as well as the support of family and friends.
Another unfortunate piece of information is that Charles and his wife Jacqui do not have medical insurance. Therefore the need to call out to all the people that we can is high.
On a side note: Charles and Jacqui are well known by many fellow Realtors® as active animal rescuers who host up to a dozen animals at their house simply because of their love for animals and their giving nature. Charles Richey is the Webmaster for his wife Jacqui's Las Vegas real estate web site as well as a contributor to many online real estate blogs and forums.
Just think, even a small donation from everyone we know will add up to a large sum to help Charles out. So, pitch in whatever you can to help Charles and Jacqui out in their time of need.
HTML Widget for your Blogs and Web Sites
If anyone would like to link to this post for some period of time, feel free to copy and paste the HTML code below.
And this is how it should appear on your site.
Donate to the Charles Richey Fund
Friend, husband and fellow REALTOR® was unexpectedly hospitalized read more
Fundraiser Goal Progression Chart
Round I
Financial Donations Received From:
Matt Pellerin
Max Chirkov
Ken Smith
Anna Bourland
Jonathan Yudin
Grant Freer
Deborah McCreath-Akbar
Joseph Ferrara
Jeff Manson
Jay Thompson
Larry and Loren Hotz
Toby Barnett
Wasabi Design, Inc.
Jason Farris
Wayne Long
Cal Carter
One Source Realty
Glenn Ginsburg
Dan Connolly
Kristi Berg
Sherry Baker
MediaQuake, LLC
James Duncan
Mike Farmer
Erich Caparas
Margaret Woda
Melissa Caulk
Kevin Kling PA
Larry Jensen
Barber Virtual Assisting Solutions LLC
Caleb Mardini
Susan Withington
Laurinda Frederick
Lisa Martin
Anna Hackman
Drew Hartanov
Dena Davis
Lynda Eisenmann
Kristi
Paul Davis
Courtney Miller
Eileen Pettengill
Erin Cristall
Kellee Davis
Kimberly Richey
Steve St John
Taeyoung Lee
Tenchi Hamaki
John Palmer
Art Derailed
Vlad Zablotskyy
Glenn Timme
Mack Perry
Martin Barringer
Ray Lancon
Gary Schmitz
Lesley Reppeteaux
Maureen Francis
Stephen Toms
Martin Barringer
Kristal Kraft
Elton Blair
Steven Haffner-Stearns
Karen Hurst