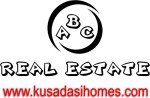 ABC Real Estate Ltd.
Inonu Bulvarı
Kusadasi
,
09400
Turkey
---
Mustafa
Kusadasi,
Business Phone
00902566128866
Serving Areas:

---
About ABC Real Estate Ltd.
Turkey property sales and management agent ABC Ltd helps you to buy property in Turkey. With our all inclusive service buying property in Turkey could not be more simple.
---
---
Reviews & Feedback

If you have an experience working with ABC Real Estate Ltd. and would like to share it with others, please write a review or a short feedback.