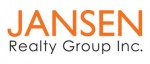 Jansen Realty Group, Inc.
15242 W. 156th Ct.
Olathe
,
66062
United States
See map:
Google Maps
---
Ken Jansen
Olathe,
Business Phone
913-908-2215
Serving Areas:
Olathe Kansas, Overland Park KS, Mission Hills KS, Stilwell KS, Shawnee KS
---
About Jansen Realty Group, Inc.
Residential Real Estate in Kansas City, specifically suburban Johnson County Kansas.
Ken Jansen embraces the latest technology and a passion for customer service that provides professional representation with uncommon results. Ken is a real estate veteran since 1996. *yawn* Ken has lots of certifications, awards, and designations. What really matters is can he represent you well in selling and or buying a house. Yes he can!
Make the smart move. Contact Ken Jansen today.
---
---
Reviews & Feedback

If you have an experience working with Jansen Realty Group, Inc. and would like to share it with others, please write a review or a short feedback.