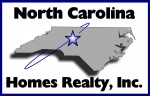 North Carolina Homes Realty, Inc.
PO Box 7032
High Point
,
27264
United States
See map:
Google Maps
---

Brad Lawrence
High Point,
Business Phone
336-909-1293
Toll Free
866-220-6458
Serving Areas:
Pleasant Garden, Sophia, Greensboro, Winston Salem, High Point, Summerfield, Kernersville, Stokesdale, Clemmons, Trinity, Colfax, Archdale, Pfafftown, Rural Hall, Tobaccoville, Walkertown, Advance
---
About North Carolina Homes Realty, Inc.
We serve buyers and sellers for all their real estate needs in the North Carolina NC Piedmont Triad area. The major cities within the Triad are Greensboro, High Point & Winston Salem. There are so many surrounding communities such as Kernersville, Oak Ridge, Lewisville, Archdale, Trinity, Lexington, Mocksville, Jamestown, Summerfield, Clemmons, Advance, King, Asheboro, Denton, High Rock Lake, Thomasville, Burlington & many more. Whether your searching for homes, land, commercial, investment properties, horse farms, golf homes, log homes, pool homes, luxury homes, historic homes, townhouses, condos.....you are covered. We have the knowledge & experience to help you. We know that buying or selling real estate can seem somewhat overwhelming at times, but it doesn't have to be that way. As owners of North Carolina Homes Realty, Inc. and serving the NC Piedmont Triad area since 2001, we are very knowledgeable in this field and we know that it takes hard work, attention to small details and caring dedication to give our clients the best possible outcome on the purchase or sale of their real estate. We can truly say that we get tremendous joy from seeing our clients and customers happy on the day of closing on their home or investment property. It's a great feeling to see the smiles and hear the many kind words of gratitude when you've helped someone achieve their real estate goals. We're here to work for you and our goal is to continue to make our clients happy so that we will keep our good reputation and will be here to stay for many more years. For our buyers - Instant MLS search now at www.NC-Homes-For-Sale.com For our sellers - we offer LOW Commission FULL service options so you can save up to Thousands in Commission! Also, $399 MLS Flat Fee for "For Sale by Owners"
See what our clients are saying about
the NC Home Team - Brad & Angie Lawrence......
If your're looking to buy a home, look no futher! Angela will be the only Realtor you'll ever need. She will go to battle and fight for every little thing, every detail, until you get what you want and deserve. Like the "enemy" once said, "Angela will not go away". As an added bonus, you'll get Brad's services for free! They are both wonderful people. I highly recommend them.
Dr. A.C. Villamor, MD of Kernersville

I would like to thank Brad and Angie for such an easy experience. I wanted to sell my house without all the time and confusion that can sometimes be involved. And with their help; it was truly shocking on just how easy it was. I felt like I was very thankful to have the help of such experienced Realtors. My house is SOLD. The buyers are happy and I am happy. Thank You!
Mandy Holloway of Kernersville 

Brad and Angie did a great job for us. We never thought buying a house would be so easy! They delivered on every promise and communicated in a straight forward manner that kept us in the loop. They promptly answered our questions and were quick to resolve all our concerns. We would not hesitate to refer Angie and brad to any of our friends and family.
Jerry and Nikki Henderson of Clemmons
I want to commend and praise Brad Lawrence for a job well done as my buyer's agent. Brad aware of my desire to purchase several houses at great value, put together a list of 40 houses that fit my criteria. I selected the top 14 picks. Brad showed the houses offering his candid observations about the properties. His feedback proved very helpful and insightful. Thanks to Brad I purchased three great houses. Many of the other houses were under contract only days after our actions. Had Brad not been so quick and responsive, I would have been shut out of the houses I wanted. Again, Brad deserves strong praise.
Mike Davis of Winston Salem 
Our home had been on the market for a year with no or little activity. Once we placed it with Brad and Angie, there were showings numerous times a week. We were notified of the showings and any comments from potential buyers right away. The marketing of our home was outstanding! They were a pleasure to deal with. We will certainly use them in any further real estate dealings in the Triad area.
Jesse and Nancy Vance of Alpharetta, GA 
We really felt as though we had both of you on our team. We knew you had our best interest at heart and knew what we needed. When we had special needs for our financing you guided us in the right direction to get the job done and we were able to get a great deal. Thank you so much for everything!
Reid and Mary Smith of Winston Salem 
Brad was extremely professional, always on time and we knew that Brad was constantly working behind the scenes to help us get our dream house. We would recommend Brad for anyone looking to buy or sell a home.
Kai and Tiffany Ehnes of Advance 
Brad and Angie found us a buyer within a couple of months. They were professional and motivated, and enjoyed working with them.
Christian Davis of South Carolina 
Brad and Angie are great! I would highly recommend them to anyone looking for the right home. Angie did a great job staying on top of things and making sure things were completed in a timely matter.
Nicole Mauney of Winston Salem, NC 
My fiance and I were very nervous when we began looking for our first home. We had a vague idea of what we were looking for and no idea how to find it. Brad and Angie were patient and understanding from the very beginning and helped us throughout the building of our brand new home. Their knowledge made the whole process that much easier and less stressful. When it's time to find our next home, I know exactly who we'll call!
Elaina Strayer of Winston Salem, NC 
Brad & Angie, Just wanted to drop you a note and thank you for selling our home for us. Being in the business we could intelligently choose who we thought would get it done for us and you two did not disappoint. Thank you for your efforts in our behalf.
John and Lisa Shaw of Mocksville, NC 
Thank you very much for showing us so many houses. I thought that showing us a house on Mother's Day speaks volumes about how much are willing to help a client.
Dale and Denise Wingfield of Pfafftown, NC 
We moved from New York and were very happy with the service provided by Angela and Brad. Their website was very helpful when searching properties from out of town. Angela spent several long days with us until we found the house that best fit our wants and needs.
Rick and Colby Picciocca of Winston Salem, NC
Angie and Brad have been our agents for the last two homes we have bought and sold. They are very knowledgeable and help make the process in the buying and selling of your home as smooth and stress free as possible. We highly recommend them to anyone who are in need of an agent.
Mike and Beverly Booe of Lexington, NC 
Brad and Angie's expertise and general helpfulness enabled us to have a virtually stress free experience in selling our home and buying our next home. Their sincerity throughout the entire process was refreshing. Thank you!
Keith and Sandra Tow of Mocksville, NC 
I am a repeat customer and when you find a team that puts their customer first, you stay with them. Angela and Brad made my first home a dream come true, so when I decided to move closer to work! I knew I would only use Brad and Angela to make it happen. And it did! In less than 2 months my home sold and I found a new house that I call "home". Thanks to their hard work, dedication and advice. Thank you!
Regina Lyalls of Advance, NC 
Brad and Angie are dedicated to their clients needs. They listen to what you want and need. We moved to Mt. Airy, NC from Port Saint Lucie, FL and in this move we ran into a lot of complications with the Florida realtors and lenders. Angela was there to help us out. She was my "Angel", she held me glued through the whole ordeal. Angela really held her grounds and was very professional when she needed to be, but most important she was my friend when I needed her the most. She let me know that everything was going to turn out for the best and in the end it did. I could not have asked for a better realtor. I don't think that I would have been able to pull everything together if I had another realtor. She went above and beyond what was asked of her and if I were to move again, Brad and Angie are the ONLY agents I will ever use. They let us know that our needs were going to be met no matter what obstacles we had to face. They were committed to making our family 100% satisfied with our purchase and the experience in buying a new home. Thank you so much Angela and Brad for everything you did for our family. I believe that they are #1 in customer satisfaction.
Sarah and Abdel Cabrera of Mt Airy, NC 
We just relocated to the Triad area in NC and already feeling at home thanks to Brad and Angie. They were professional and extremely knowledgeable when it came to directing us to the perfect house. We have recommended them to family and would urge you to contact them if your are seeking to buy or sell a home!
Brian and Wendy Emerson of Lewisville, NC 
The sale of our home was not an easy one because of its location and various other complications. Therefore, it took a lot of patience and communication between us all to make it happen. Angela and Brad was always available and made the process of buying and selling our homes as painless as possible. They did not give up and was always available when we needed to contact them. This in our case was very frequently. They did extensive advertising on our property in several magazines in surrounding areas and always kept the web and brochures up-to-date when changes were made. Thanks to their efforts we are now living in our new home just in time to celebrate our first Thanksgiving and Christmas.
Mike and Beverly Booe of Advance, NC 
We talked with several local real estate agents when deciding to list our home. We both felt so comfortable with Brad and Angela immediately. We knew you would look out for us and do a professional job advertising and promoting our home to potential buyers and other agents. We could not have been more right about our decision. Not only did you help us sell our house quickly, but you also helped us find a new home perfect for our family. Although, we are not planning to move now for a long time to come, if we did, we would call you both immediately to handle things for us. Thank you so much.
Steve and Lisa Gifford of Advance, NC 
Brad and Angela were great. They paid attention to what we had to say and made themselves available to us. Brad and Angie helped us pursue the house of our dreams.
Brad and Stacey Abernathy of Mocksville, NC 
I was very pleased with my experience. Brad and Angie went beyond the normal scope of business to find and close a house for me. They are very customer-oriented, friendly attitude. Angela and Brad, I now know on a first name basis, were very "down to earth". They explained the real estate terms in a way I understood; again I am very satisfied with my experience.
Greta Nixon of Mocksville, NC 
When we decided to look for a new home, we picked Brad and Angie to help us with our search. What a team we got! They were very patient and showed us many homes in Forsyth, Davidson, Davie and Stokes counties. They arranged all the details surrounding the closing. We love our new home and are thankful for their assistance. God bless you, Brad and Angela.
Bobby and Pattie Mitchell of Mocksville, NC 
We would like to thank you for finding us our beautiful home! Though it took us a long time to decide on a house, you never gave up on us and we will always appreciate your efforts. We highly recommend Brad and Angie to anyone buying or selling their home. Thank you and best wishes!
Richard and Kathy Smith of Mocksville, NC 
We were looking for a home near Winston Salem and we chose Brad and Angie to help us. Thanks for the hard work of Angela and Brad! Thanks again!
Ray and Judy Warzy of Lexington, NC 
I would like to say that our experience was wonderful. Angela and Brad kept us well informed on everything that was going on while they were selling our homes.
Patricia Kim of Lexington, NC 
Brad and Angie sold us our dreamhouse. They are one of a kind and I will use them in the future.
Rick Holcomb of Advance, NC 
My wife and I were very pleased with the work provided by Brad and Angie during our buying process. They were prompt & courteous with us and made the buying process a breeze. We will most certainly use the services of Brad and Angie for our selling and buying needs.
Chris Robinson of Winston-Salem, NC 
Brad and Angela,
Thank you for the sale of our home.   The reason we picked you to market our home the diligence and the hard work you displayed in the sale of our neighbors home and you proved it once again.   We highly recommend you to anyone!
Charles and Joan Nichols of Mocksville, NC 
Brad and Angela,
Thanks so much for selling my home.   I didn't expect it to sell so quick especially with so many homes for sale.   You both worked hard and I know that I couldn't have chosen a better real estate agency to work with than you.   I have already recommend you to several others.
Ronnie Jordan of Mocksville, NC
Angela,
Thank you so much for selling our house. You have exceeded my expectations for a realtor! Your company is the only one I would ever recommend to list with. You stayed in touch and went the extra mile for us especially with us being out of town. You took the worry out of everything! Thank You!
Patricia Davies of Alabama
Angela and Brad,
My experience with you was a very positive endeavor. Angela and Brad helped make a stressful situation much easier and pleasant. Angela gave alot of her time on many occasions to show me homes and explained the mound of paperwork in laymen terms. I highly recommend them for your real estate needs!
Bonnie Goodin of Advance, NC
---
---
Reviews & Feedback

If you have an experience working with North Carolina Homes Realty, Inc. and would like to share it with others, please write a review or a short feedback.