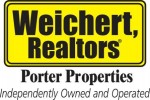 Porter Properties
472 North Dean Road Suite 200
Auburn
,
36830
United States
See map:
Google Maps
---

Stacey Salatto
Auburn,
Business Phone
334-887-2070
Serving Areas:
Auburn AL, Opelika AL
---
About Porter Properties
Auburn Opelika Homes with interactive maps and neighborhood data.
Auburn AL Real Estate Company, WeichertRealtors® - Porter Properties, introduces a new online MLS search feature thatallows buyers to find Auburn AL Homes through online web 2.0technologies.
"When finding Opelika Auburn AL homes, home buyers &sellers currently have an interactive dynamic map search function creating onesource for everything needed to make informed real estate decisions,"company broker Stacey Salatto, said. "Now homebuyers & sellers can getdetailed property information, have the ability to explore the neighborhood,community news and financing options all in the same place. The advanced searchfunction eliminates the need to visit several websites for the information thatis critical to making a home buying or selling decision."
Auburn AL Homes are everywhereonline, but home seekers have wanted a platform to locate local information inone easy resource. Such resources include the ability to navigate the Opelika AL& Auburn AL neighborhoods, answer questions such as; where is the nearest school,grocery store, hospital, movie theatre, bank, or cafe of the desired Auburn AL homesthey are interested in. The new Explorethe Neighborhood feature brings all of this and more with maps, thereforeproviding a valuable experience to buyers & sellers in the Auburn homesfor sale process.
Sellers in the Auburn Realty market have alsorecognized that placing their homes for sale on this new web 2.0 technology engagesbuyers and helps sell their homes faster.
With nearly 2,000 Auburn AL Real Estate listings, websitevisitors can narrow searches by Auburn homes, Auburn condos, Auburn townhomes, new homes in Auburn,Auburn rental, and commercial properties.
Along with local map neighborhood features, thecapability to get directions, compare properties, save to favorites, and stayinginformed with daily emails alerts so you can be one of the first to know when Auburn AL homescomes on the market has been a hit with website visitors.
Additional features include getting the most up-to-date AuburnAL real estate statistics, and the ability to discover what Auburn AL homesare selling and for how much. Whether you are looking to buy a home or listingyour property, you will be aware of your competition and be capable offamiliarizing yourself with what the neighborhood market commands. And ofcourse the Real Estate agents at Weichert, Realtors® - Porter Properties areonly a phone call (334-887-2070) away to answer any questions you have aboutour community.
According to the National Association of Realtors,87% of home searches begin on the internet. "This number is too large toignore", says Stacey Salatto. "We wanted a platform to embrace home buyers andsellers and provide a seamless Auburn AL Real Estate experience that madesearching for a home as effortless as possible. We continue to listen to NAR,our home buyers and sellers, along with providing the systems and tools theyneed to make the Auburn AL Real Estate process as easy as possible".
PorterProperties.com gives real estate consumers abetter way to buy and sell homes through a comprehensive suite of real estateservices, tools and helpful advice.
---
---
Reviews & Feedback

If you have an experience working with Porter Properties and would like to share it with others, please write a review or a short feedback.