Tina Abraham Real Estate
1001 Military Cutoff Suite 101
Wilmington
,
28405
United States
See map:
Google Maps
---

Tina Abraham
Wilmington,
Business Phone
910-619-8931
Alternative Phone
910 202 3604
Serving Areas:
Wilmington, Southport, Carolina Beach, Leland, Topsail Island, Kure Beach, Figure Eight Island, Castle Hayne, Hampstead, Wrightsiville Beach, Cape Fear Coast
---
About Tina Abraham Real Estate
Buying or selling real estate on the coast of Wilmington NC can be a chore or an easy sweep, call me and let's discuss your your real estate needs. Looking for a second home? Wilmington NC has some fantastic opportunities on the beach near the Cape Fear river or simply on your favorite Golf course. NOW is the time to buy REAL ESTATE while prices are low. Remember Housing has always been a fantastic long term investment.
Tina Abraham Wilmington NC Real Estate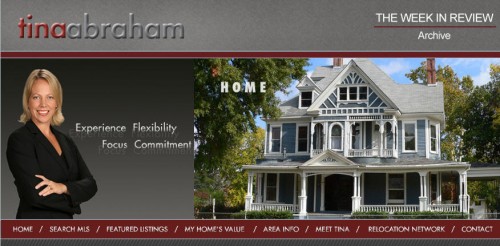 I am a proud resident of the Carolina Beach area located on the amazing Pleasure Island. Originally from Central Florida, with a Degree in Marketing, I have had the wonderful opportunity of living and working in exciting places such as Dominican Republic, Spain, and Hungary and most recently in London, England where my husband and I established a small business for renovating investment opportunities in the "hottest property market in the world." This wonderful opportunity of buying Victorian homes and renovating has given me so much knowledge.
Although this international experience has been gratifying, I have never been happier than living with my husband and two children along the beautiful North Carolina Coast.

This Wilmington lifestyle has been very rewarding for us as I am sure others have found. Nothing beats bicycling with the family to breakfast early Saturday morning and then take the kids to play around on the beach.

I am fluent in Spanish and also have more than 12 YEARS OF PROFFESIONAL MARKETING EXPERIENCE WORKING FOR SOME OF THE BIGGEST NAMES IN THE RETAIL & HOSPITALITY INDUSTRY (Nike, Hard Rock Cafe', Planet Hollywood). In my spare time I keep fit with coaching soccer, yoga and kickboxing and oil paint in those oh so few quieter times.

This experience will be beneficial to you as I guide you through the buying/selling process. I will take special care to ensure you are well informed, happy your needs are being met, and confident our partnership is a successful one. My clients feel secure in knowing that my knowledge of local real estate: golf real estate, waterfront properties, historic homes, new homes and luxury homes will ensure that they get the home they have dreamed of!
Wilmington NC Real Estate at it's Best
You're accustomed to having your suits tailored. Why should your real estate service be any different? Tina Abraham delivers the concierge-like service and support that individuals have come to expect! Because she specializes in the personal real estate needs of affluent cliente`le, she offers customized service that the everyday agent can't provide
Tina Abraham is a licensed real estate broker with Keller Williams Realty in Wilmington, North Carolina. She is a member of the Wilmington Board of Realtors, North Carolina Association of Realtors, the National Association of Realtors as well as a Certified E-marketing Specialist and a Seller Representative Specialist (SRS).
Tina Abraham is a leading real estate broker in Wilmington, North Carolina. Tina specializes in selling homes and commercial real estate in Wilmington, Greater Wilmington, Pender County and Brunswick County, which are some of the highest demand real estate in the world. Visit us for more information on Tina and how she can help you buy or sellWilmington, NC real estate, or call (910) 619-8931.
Happy Wilmington NC Real Estate Clients
Our company has been working with Tina Abraham at Coldwell Banker Sea Coast Realty for the past year in selling our new construction homes as well as finding us the right properties for future development. We have found that Mrs. Abraham has exceeded our expectations in all phases of real estate. These phases include marketing, negotiations, locating properties and getting our properties sold. The research that she puts into finding new properties for future projects is extremely detailed and requires no further investigation on our part in making our decisions. Market analysis are emailed to us weekly, a chart of what is selling and where as well as prompt feedback on any of our properties that have been shown to buyers. We would and have recommended Tina Abraham to our clients and friends to represent their properties and to represent them in their future purchases. Tina Abraham makes buying and selling real estate an enjoyable experience.
Brooks Addis, Addis Construction
Ron Britton, Wilmington, North Carolina
Tina Abraham reached above and beyond we had worked with a realtor prior and decided we needed to make a change, we found Tina via Google and we were very impressed with her website, which had an abundance of knowledge. After reading many articles written by Tina we new that we had a realtor that would ensure our Real Estate Transaction was closed without a hitch. I would reccomend her to anyone.
Mark and Cheryl Hodgins
Hartford, Conneticut
---
---
Reviews & Feedback

If you have an experience working with Tina Abraham Real Estate and would like to share it with others, please write a review or a short feedback.