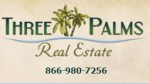 Three Palms Real Estate
24566 Perdido Beach Blvd
Orange Beach
,
36561
United States
See map:
Google Maps
---

June Johnson
Orange Beach,
Business Phone
251 980-7256
Toll Free
866 980-7256
Alternative Phone
251 974-2716
Serving Areas:
Orange Beach, Gulf Shores, Florida panhandle
---
About Three Palms Real Estate
Three Palms Real Estate has Gulf Shores real estate properties that extend into the Orange Beach area as well as Florida. Look online to view the wide selection of homes and land available or call one of our agents today.
Agents of Three Palms Real Estate pride themselves in thier knowledge of the area, ability to listen and answer questions and provide a high level of customer service in order to make the purchasing process worry-free. Our agents are also licensed in the state of Florida and can help with properties, in addition to our Gulf Shores and Orange Beach real estate properties. If you're looking for that perfect spot of land in order to build your own custom dream home, we can help. Check the featured listings online or call an agent who can help you find the perfect fit!
---
---
Reviews & Feedback

If you have an experience working with Three Palms Real Estate and would like to share it with others, please write a review or a short feedback.