Troop Real Estate-Mike Lefton
3200 E. Los Angeles Ave
Simi Valley
,
93065
United States
See map:
Google Maps
---

Mike Lefton
Simi Valley,
Business Phone
805-407-6453
Serving Areas:
Thousand Oaks, Newbury Park, Simi Valley, Northridge, San Fernando Valley, Oak Park, Porter Ranch
---
About Troop Real Estate-Mike Lefton
Are you looking to buy or sell a home in Ventura and Los Angeles County? Lefton and Associates offers recently listed real estate properties throughout Ventura County, and surrounding Los Angeles County cities in the San Fernando and Santa Clarita Valleys. List your property with confidence! We have hundreds of listings including condos, town homes, foreclosures, short sales, new homes, land, and investment properties. As Ventura County natives, my associates and I have made Ventura County and its surrounding areas our specialties. Our belief is that dedication, determination, and drive are the winning combination. We encompass the strength of teamwork with a reputation for results. Lefton and Associates has made it easy to come and search the very thing you're looking for: HOMES! We strive to help you find that perfect property. Our easy to use search engine combines all Ventura and Los Angeles County MLS databases including Simi Valley, Moorpark, Thousand Oaks, Westlake Village, Calabasas, Chatsworth, Northridge, West Hills, Woodland Hills, and MORE! We're committed to keeping you informed and providing you with personalized customer service. Search, compare and select properties for sale that you might consider purchasing. With us, you'll receive daily email alerts of new real estate listings in your preferred area, price changes of properties that meet your search criteria, you can save your searches and favorite properties for later review, even schedule your property showings online! Access your account at anytime and change the frequency of the email alerts or share them with friends! Once you have located a listing of interest, simply complete the information request to have Lefton and Associates contact you to help you view and purchase your new home. We receive new listings everyday from local agents, brokers and the MLS, so check back regularly!
Helping Buyers and Sellers
Welcome to Lefton & Associates. This website features the best Location MLS search for homes, condos and land available. It is easy to use and navigate through Location real estate searches. We have specialized agents throughout Location, presenting the best Location homes and condos for sale daily. If you are searching for Location real estate, you have found the right site. Whether you are buying or selling in Location, we are here to help. You can use our website to view all homes available for sale in Location, Location, and Location.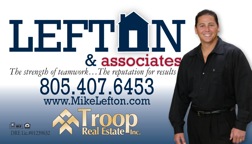 ---
---
Reviews & Feedback

If you have an experience working with Troop Real Estate-Mike Lefton and would like to share it with others, please write a review or a short feedback.