ThickBox Content Plugin for WordPress
Posted March 30th, 2009 by Max Chirkov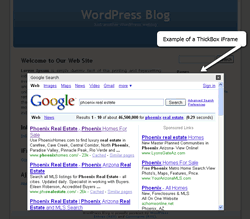 While I was working on a few WordPress based web sites at our office, I discovered that thickbox (effect) code was included into the WordPress core. Beside displaying images in a fancy pop-up overlay, thickbox also can handle different content types or code in a similar way. You can display custom HTML, text or forms in a thickbox without any special coding or programming skills. The best thing - it's already in the core of the WordPress.
So, I decided to put together a ThickBox Content plugin that preloads the thickbox code on your pages, and adds a button to the page editor toolbar. This button allows to setup up any sort of content to appear in thickbox effect via iframe, ajax or simple inline HTML. The settings are quite flexible and it's easy to use. Take a look at the screenshots and a quick demonstration video.
If you use this plugin, I'd like to see some cool examples of its implementation, so please feel free to share here on in the comments of the official web site.