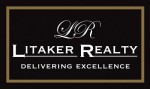 Litaker Realty Inc.
P. O. Box 92933
Southlake
,
76092
United States
See map:
Google Maps
---

Brandon Litaker
Southlake,
Business Phone
817-729-5983
Serving Areas:
Westlake, Keller, Colleyville, Southlake, Grapevine
---
About Litaker Realty Inc.
Your Southlake Realtor. Search Homes for sale in Southlake, Colleyville, Grapevine, Keller and Westlake TX.
---
---
Reviews & Feedback

If you have an experience working with Litaker Realty Inc. and would like to share it with others, please write a review or a short feedback.