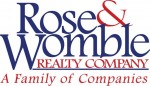 Rose & Womble Realty
123 S Lynnhaven Rd
Virginia Beach
,
23452
United States
See map:
Google Maps
---

Mike Grandelli, REALTOR
Virginia Beach,
Business Phone
757-573-5373
Serving Areas:
Chesapeake, Portsmouth, Suffolk, Norfolk, Hampton Roads, Virginia Beach Va
---
About Rose & Womble Realty
Buy or Sell Anywhere in the Hampton Roads, Virginia region. Residential, Resort, Relocation, Retirement. Accredited Buyers Representative (ABR) Mike Grandelli Rose and Womble Realty 757-573-5373
Rose and Womble "Top Producer"
Since joining Rose and Womble Realty, Mike Grandelli has established himself as one of the more successful Realtors in the Hampton Roads area. Mike has been recognized by the Hampton Roads Realtors Association as an inductee into the Circle of Excellence, placing him in the top 20% of all agents in the region. He is also considered a "Top Producer" at the Lynnhaven branch office of Rose and Womble Realty.
A former consultant for TV networks such as TNN, FOX Family Channel, PAX, Food Network, and TV Guide Channel, Mike Grandelli brings his years of experience in television advertising and promotion management to his career in real estate. A native of New York City, Mike and his family have called Virginia Beach home for more than 20 years. This knowledge of the Hampton Roads area, combined with the skill of an advertising manager, makes Mike the perfect choice to market your home! 
Mike is a member of:
The National Association of REALTORS
The Hampton Roads REALTORS Association
The Virginia Association of REALTORS
RELO (nationwide relocation and referral)
REIN (Hampton Roads' multiple listing service)
REBAC (Real Estate Buyers' Agent Council)
---
---
Reviews & Feedback

If you have an experience working with Rose & Womble Realty and would like to share it with others, please write a review or a short feedback.