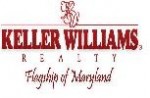 Keller Williams Flagship of Maryland
1111 Benfield Blvd Suite 250
Maryland
,
21108
United States
See map:
Google Maps
---

Butch Groom
Maryland,
Business Phone
443-795-3162
Toll Free
1-877-855-4411 x111
Alternative Phone
443-790-6918
Serving Areas:
Pasadena, Hartford County, Columbia, Anne Arundel County, Howard County, Annapolis, Glen Burnie, Ellicott City, Maryland, Crofton, Severn, Odenton, Gambrills, Davidsonville, Millersville, Severna Park, Crownsville, Can also help you RELOCATE ANYWHERE!
---
About Keller Williams Flagship of Maryland
Serving central Maryland for all your REAL ESTATE needs
 Providing Experience, Integrity and Solutions
Butch Groom and Terry Gillis, The G-Team, take great pride in their work and strive for excellent quality of service for their clients. It is their love for the industry that keeps them moving forward to learn and adapt to the challenges of the market. With over 15 years experience, these full time agents have the knowledge and the network to provide full service REO support for REO listings. Both have years of personal experience with property management, investments, residential and investor transactions and most recently short sales. Both are Certified Distressed Property Experts (CDPE). Butch is REO Trans certified, Five Star Short Sale and RES.Net. This team can provide REO management, marketing, sales, BPO valuation services, property preservation and management, cash for keys negotiation and security stabilization. From pre-marketing and listing to sale and close of escrow, The G-Team is personally committed to handling each transaction to excel in service and communication and carries out our company standard if "Win, Win or No Deal"!
---
---
Reviews & Feedback

If you have an experience working with Keller Williams Flagship of Maryland and would like to share it with others, please write a review or a short feedback.