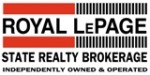 Royal LePage State Realty, Brokerage
987 Rymal Rd. E.
Hamilton
,
L8W 3M2
Canada
See map:
Google Maps
---

Les Myers
Hamilton,
Business Phone
905-574-4600
Toll Free
1-877-574-4601
Serving Areas:
Caledonia, Hamilton, Dundas, Ancaster, Stoney Creek, Grimsby, Hamilton Wentworth, Smithville, Dunnville, Cayuga
---
About Royal LePage State Realty, Brokerage
Positive, experienced Royal LePage Hamilton Ontario real estate agent helps first-time or seasoned home buyers and sellers find the best mls listings, homes for sale in Hamilton area which includes automatic notifiers for newly listed properties, house and condo market evaluations, REALTOR® services, tips and resources including Royal LePage TV, a series of interactive videos. Les Myers is a multi-award winner proving you always "Get More From Les".
You have to believe in yourself in order to have real estate Buyers and Sellers believe that you can help them buy or sell their home. You can't help everyone as there are many personalities and not all personalities get along. That is why there so many real estate agents in the market place. I believe like most that there is a home for every Buyer. You just have to have the patience till it comes along. There are too many agents that rush people and tell them this is the one. You can tell when it is the right home people change when the walk into the right home. It is like the home has been waiting and tells them when they walk in that they are home. You may be qualified to buy a bigger or more expensive home but why be pushed into something that is not the right Home. I like to take time to make sure that this is the right home for you and yours. That is why I have a lot of referrals from past clients. They feel they got a great deal and are proud of it. I always tell a Buyer "If I would let my mother live in this neighbourhood then I feel good about you living in this neighbourhood."
When Selling there is alot of paper work and procedures to get through. Did you know that most "for sale by owners" homes are sold by a real estate agent. Did you know that alot of" for sale by owners" get offers from people that are not qualified to buy thier home. As a real estate agent in Hamilton, I go through all the necessary steps before I show a home to a Buyer. I don't like to get anyones hopes up with an unqualified Buyer or someone that is not looking for that type pf home. I strive to make each transaction as smooth as possible for everyone. That is what makes people smile and I believe that smiles help the world go around.
So if you want someone to help Sell or Buy a home, feel good about everything when it is all done and come out of it with a smile call me and "EXPECT TO GET MORE FROM LES".
---
---
Reviews & Feedback

If you have an experience working with Royal LePage State Realty, Brokerage and would like to share it with others, please write a review or a short feedback.