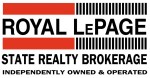 Royal LePage State Realty, Brokerage
987 Rymal Road East
Hamilton
,
L8W 3M2
Canada
See map:
Google Maps
---

Lisa Tollis
Hamilton,
Business Phone
905 574-4600
Toll Free
1-877-574-4601
Serving Areas:
Caledonia, Hamilton, Burlington, Dundas, Ancaster, Stoney Creek, Grimsby, Smithville, Dunnville, Cayuga, Brantford, Binbrook, Waterdown
---
About Royal LePage State Realty, Brokerage
An Award Winning Realtor® Providing Professional Real Estate & Relocation Services for Home Buyers, Home Sellers, First-Time HomeBuyers, Investors & Commercial Property Investors. Lisa Can Help You Search for MLS Real Estate Listings In Hamilton Ontario | Ancaster Ontario | Stoney Creek Ontario | Burlington Ontario & Surrounding Areas. Need A Mortgage? Lisa Can Help you with that too. Lisa Can Provide you with a Mortgage Consultant to help you make your Dreams of Owning a Home Come True! Look to Lisa Tollis, Realtor®, For All of your Real Estate Needs. FREE!! Home Market Evaluations Call Today!! What's Your Home Worth?
---
---
Reviews & Feedback

If you have an experience working with Royal LePage State Realty, Brokerage and would like to share it with others, please write a review or a short feedback.