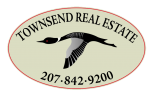 Townsend Real Estate
431 Preble Street
Southern Maine
,
04106
United States
See map:
Google Maps
---

Kathryn Townsend
Southern Maine,
Business Phone
207-842-9200
Toll Free
1-800-405-6691
Alternative Phone
207.232.8668
Serving Areas:

---
About Townsend Real Estate
Full Service real estate company located in the heart of the Willard Beach area. Servicing the Southern Maine housing market. Specializing in coastal homes, waterfront property, residential, investment, rentals and property management. Representing buyers and sellers
About us...
Experience:
The REALTORS® at Townsend Real Estate have a combined seventy plus years of Real Estate experience selling residential and investment properties. 
Service:
The hallmark of Townsend Real Estate's philosophy is attention to detail. All of our agents strive to exceed their client's expectations & we offer what we believe to be the absolute best in customer service. Our local knowledge and relationships with lenders, inspectors, title companies, attorneys, builders and local venders help our client's to feel secure that we are doing the very best to make their transaction as stress free as possible.
Education:
All of our agents are required to attend twenty-one hours of continuing education bi-annually. In addition to this, we continually strive to exceed these requirements by researching and staying ahead of all of the continuously changing real estate trends.
Marketing:
In recent years, studies show that over ninety percent of all buyers and sellers start their home buying search on the internet. Due to this outstanding number it was imperative that our web presence remained above and beyond the rest. In order to do this we have in-house search engine optimization services and we are constantly changing the content on our web site to keep up with the current market and trends. We have an average of over 100,000 hits per month to our website at www.TownsendRE.com.  
We do our own in house advertising and design. Our designs are classic and distinct. They are very unlike the typical corporate real estate marketing.
Our philosophy and attention to detail began years ago when we designed, and continue to build in house, our custom wooden Real Estate Signs. The shape, materials & overall craftsmanship of the signs stands out amongst other companies & is the first indication to our clients that we are a different company. We are a company that cares about every detail and never settles for less.
Over seventy percent of our buyer's are relocating to the area and find us on the internet.
International Exposure:
We are affiliated with WorldProperties.com which is the largest network of international real estate web sites in the world.  By leveraging this unique service, your property is exposed to more than 8 million buyers in more than 25 countries. This additional level of marketing and service in imperative in today's high tech world when international buyers are now more than ever interested in purchasing property in the United States.
---
---
Reviews & Feedback

If you have an experience working with Townsend Real Estate and would like to share it with others, please write a review or a short feedback.