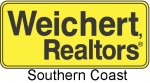 Weichert Realty Southern Coast
3701 Renee Dr.
Myrtle Beach
,
29579
United States
See map:
Google Maps
---

Erica Petway
Myrtle Beach,
Business Phone
843-957-8206
Alternative Phone
843-903-4443
Serving Areas:
Myrtle Beach, North Myrtle Beach, Surfside Beach
---
About Weichert Realty Southern Coast
Let me first introduce myself… I am Erica Petway, Weichert Realty - Myrtle Beach Realtor® and the former owner of EHP Cleaning Services in the Myrtle Beach, SC area. My years of experience were spent working side by side with many second home investments and wonderful vacation rental owners. With that knowledge and together with my internet and web design skills, I feel uniquely qualified take care of your real estate needs! My areas of concentration are on vacation and residential properties. Dedication and genuine care for you are extremely important attributes that I consider fundamental to helping you...whether you're buying or selling! I look forward to meeting you! Sincerely, Erica H. Petway
---
---
Reviews & Feedback

If you have an experience working with Weichert Realty Southern Coast and would like to share it with others, please write a review or a short feedback.